Remembering Ruby: For Families Living Beyond the Loss of a Pet
By Melisa Wells
Remembering Ruby is a wonderful book for anyone who's recently suffered or is about to suffer the loss of a pet. It's written by the lovely Melisa Wells of Suburban Scrawl.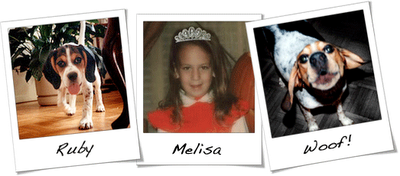 ---
Daisy's Pet Supplies
Daisy's Pet Supplies is an online pet supply store that sells dog toys, beds, leashes, collars—you name it! If Beverly weren't such a freeloader and actually had some money, she'd shop there in a heartbeat.
---
Vicktory Dog Wine
Okay, the makers of Vicktory Dogs Wine don't exactly read this blog (or maybe they do!), but a few people sent me this link and I had to include it in my gift guide.
So, remember the dogs rescued from Michael Vick's dog-fighting ring? Well, the dogs now live at Best Friends Animal Sanctuary, the largest no-kill, no-cage animal rescue sanctuary in the U.S. An artist began painting portraits of these dogs, and a vineyard in California put the portraits on bottles of wine and is giving 100% of the proceeds back to Best Friends. The wine is available by the bottle or the case and would make a great gift for any animal lover.
---
World Animal Foundation: Adopt An Animal
WAF's Adopt An Animal symbolic adoption helps preserve the planet and protect its animals. It makes a great gift and comes with a kit that includes the following:

Photo of Your Adopted Animal

Adopt An Animal Adoption Certificate
Fact Sheet About Your Adopted Animal

Help Animals Info Packet Packed With Information On Animal Issues & How You Can Help Animals And The Environment
Each kit can be sent directly to the recipient at a date of your choosing and will include a letter stating the Adopt A Cow is from you.